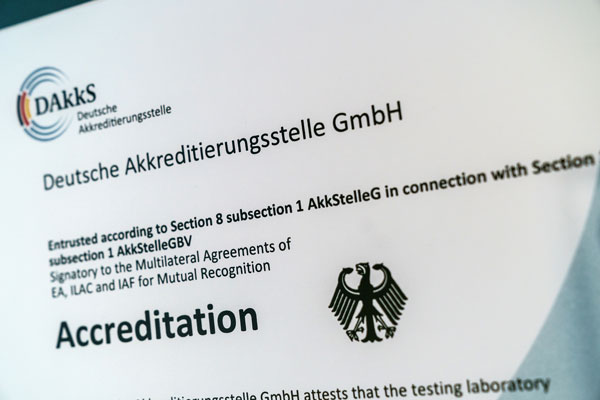 Quality Management
Our Quality Management is based on the norm DIN EN ISO/IEC 17025:2018
For the quality assurance of measurement and testing results quite a few administrative and analytical actions are necessary. These measures as well as all activities in the laboratory that are related to the realisation of examinations are documented in the quality management handbook. Central aspects are: the quality assurance of measurement results, control of the quality assurance system, preventive actions, customer service and judgement of the management system. The compliance with these rules is demonstrated by accreditation certificates:
Assuring the quality of measurement results
The fundament to achieve correct results is the use of suitable and reviewed methods, therefore it is preferable to use standardised methods. Since official methods are not available for all analyses one has to modify or even develop own methods. These so called "house methods" are then validated according to international standards.
Important criteria therefore are:
Linearity of the measuring range, specifity and selectivity, precision and trueness, determination of the limit of detection (LOD) and limit of quantification (LOQ), ruggedness of the method, measurement uncertainty.
The observation of the test equipment in routine operation is then checked through a number of arrangements.
1. method check
Measurement of standards in solvent, spiked blank samples (external standard method), measurement of reference material, this can be samples measured frequently in the lab, samples from laboratory comparisons or certified reference materials. Spiking the sample with the analyte of interest (method of standard addition).
2. control charts
Reference samples are analysed along with every set of sample and results are filled in a control chart specific for each method. From the resulting chart one can easily check if the method performance is stable within the limits set. Test our free tool for control charts ExcelKontrol.
3. checkup of devices
Further all laboratory equipment is tested regularly for its functional capability.
Any control data, occurring disturbances, error messages and their trouble shooting are recorded in a operating manual.
4. management of chemicals
Special attention is given to the handling of chemicals, standards and reference materials. This is necessary to assure in the first place that only specified substances are used but also in case of deviation it is essential to have full traceability for cause studies. These controls range from supplier selection over reception inspection of certain batches to total documentation of usage for preparing reagents.
5. Quality assuring activities beyond routine
Integral element of further quality assurance is continuous participation in collaborative studies and interlaboratory comparisons. GfL is striving to cover all offered analysis regularly to have revisable proof of the analysis quality.
Results of collaborative studies are examined and stored by the quality assurance.
Observation of the Quality Assurance System
Apart from the regular controls by the accreditation body regularly internal audits are performed. This is necessary to routinely check all aspects of the QA system which are:
Organisation and staff, handling of documents and data, customer satisfaction, complaints, technical conditions, maintenance of devices, methods (standard operation procedures, SOP), control of execution, management and filing of results, sample custody, results of official verifications, calibrations and collaborative studies, custody and labelling of chemicals.
Results of these internal checks are set out in writing and summed up in an audit report. On the basis of this report the entire QA system is evaluated by the general management and corrective measures are accommodate if necessary.
In addition to the audits mentioned above naturally customers can, under consideration of secrecy, conduct own audits. This possibility has been appreciated a few times already during the last years. We expressly appreciate this development since customer audits are a good basis for a trustful, transparent and last but not least successful collaboration.
Preventive measures
Preventive measures are an important element of quality assurance since they markedly reduces sources of error respectively risks in all parts of the laboratory and administration. They are a foundation for longterm quality assurance because they progressively are implemented into the quality management handbook.
In terms of personal responsibility all staff is called upon to continuously identify sources of error and thereby contribute to the continuous improvement process.
Precautionary actions include, a.o.:
Further training and education of personnel, method enhancement, advanced quality a urance through use of certified reference material, undercover spiked samples, participation in collaborative studies and interlaboratory comparison, keeping track of control charts, allocating sub-orders, conducting audits, revision of documentation, to establish new quality a urance documents, maintenance, calibration and official verification of equipment, shutting down and replacing testing aids, literature research, refusing orders outside of our expertise
Provision of service for the customer
In our self-conception as a service enterprise we do not only have highest demands to our analytical results but also to our collaboration with the customer. This begins with consultancy about sensible analysis extends of individual samples as well as reasonable testing plans for a continuous quality control. This includes, where required, specifications about sampling, sample packaging, the number of sample drawings and shipping details.
Also when samples have been received a close communication with the customer is most important for us. In these terms all conspicuities at sample reception or during the analysis are discussed. This way possible continuative action can be initiated even before the ending of all analysis.
Naturally the client is informed in time if possible delays occur. All our reports generated include furthermore a detailed evaluation and interpretation of the findings depending on the analysis extent. Beside legal comments this can also be consumer relevant quality aspects.
After arrangements we additionally allow inspections of our lab, where the customer can watch closely the handling of their samples. If samples delivered are needed for instance for verification reasons we can provide these up to three months after receipt.
Should there, despite of all quality assurance measures, be reasons for complaints our quality management system has rules and procedures how the grievance is dealed with. All complaints, their investigation and if so corrective measures are documented and can be examined by the concerned customer any time.
Review of the quality management system
Yet another considerable element for continuous enhancement and improvement of the system is the periodical review and the aim for new ambition.
Therefore the whole quality management system is evaluated regularly by the general management. For this reason the technical directors point out the current status of the system as well as detected flaws.
The assessment includes at least the following headwords:
adequacy of the general regulations and procedures, technical directors give an account of the current status and po ible flaws, results of previous internal audit, results of external surveys, results of collaborative studies and laboratory comparisons, change in extent or nature of operations, flow of information from customers, complaints, further activities for quality improvement and training of staff